"From every human being there rises a light that reaches straight to heaven, and when two souls that are destined to be together find each other, the streams of light flow together and a single brighter light goes forth from that united being."
Rabbi Yisrael ben Eliezer, Chassidic mystical rabbi, 1760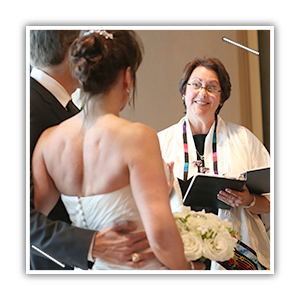 Many couples choose to have a program provided to their guests as they enter the ceremony or placed prior to the wedding on each seat.
You may wish to add the order of the processional and a personal message along with a brief explanation of the customs and rites to be performed. Take a look at a few of the examples here or contact me for more information.
Please view my Wedding General Information page.
Laurel,
Thank you SOOO much for spending the most important day of our lives with us and making us officially husband and wife! We got so many compliments on our ceremony, everyone loved it and you in particular! A lot of our friends from Boston and West Virginia had never experienced anything like that with the Jewish faith added in and they were impressed. And of course all of my families' Jewish friends and families just loved you already!! I couldn't have asked for a better ceremony! And thank you for dealing with and getting through to Fr. Bob. I knew it would turn out perfectly in the end. Tom was telling people he is now "a quarter Jewish!" haha, we will just let him keep thinking that!


Thanks again for everything!!!!!
Kelly and Tom Clark more rave reviews