Meet Laurel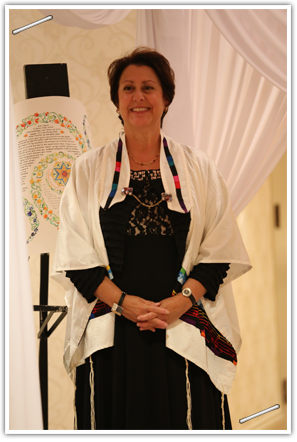 I have always called Cleveland my home; from the time that Lake Erie, in flames, was the target of many jokes. to the present beautiful rebirth and revitalization of this great city. I was raised on the east side of Cleveland, one of four kids, where music and Jewish education were the focus of our lives. I began studying piano at 6 and when I turned 8, I was allowed to add another instrument of my choosing to study. We were not as savvy back then and didn't rebel. I recall shlepping my cello back and forth from school to rehearsals and lessons. Looking back I should have chosen the flute…..
My life is centered on the Jewish community and music. Daily Hebrew school lessons as well as the usual homework and musical practice was the norm for our family. I began performing piano duets with my brother, Allan, every Friday at elementary school, rubbing arms and elbows, (very annoying), but delighting our young audiences and teachers. As a young adult I was selected to perform starring roles in Gilbert and Sullivan's Mikado and HMS Pinafore as well as entertaining at Cain Park summer theater's productions of Finian's Rainbow and Fiddler on the Roof.
I entered Carnegie Mellon University in 1975 and finished my studies right back home here at the renowned Cleveland Institute of Music. Upon graduation I joined the faculty of the Cleveland Music School Settlement and taught private piano lessons on the side. It was during the summer of 1977 at Camp Wise in Chardon, Ohio, I met my future husband, Chad Barr, (aka Chanan Bar Chana), the musical emissary from Israel, who had arrived to teach Israeli music and culture at the camp. Though Chad spoke very little English my Hebrew proficiency proved to be a very helpful component of the relationship. Anyway, music transcends all language! We were married in 1979 and raised two children, Sharon and Jacob, now both grown and I am now the proud grandmother to Dafna and Liav.
I spent 22 years as musical director of the family services and educator at The Temple Tiferet Israel in Beachwood and while there began my cantorial studies with Cantor Stephen Stein of the Cantor's Assembly in New York and Cantor Aaron Shiffman of Congregation B'nai Jeshurun. After years of study and apprenticeship, I was invited to be the full time cantor at Temple Emanu El which included a large variety of duties. Along with leading worship services, I was busy performing in and organizing concerts and special events including Cantors Unplugged and a tribute concert in memory of the late composer, Debbie Friedman. One highlight of my time at Temple Emanu El was the 50th anniversary gala where I performed a one woman show entitled; From Bima to Broadway.
Now, off the pulpit, I continue to serve the community as a personal cantor. I have created a special niche working with wedding couples, preparing them for their special day and creating ceremonies that capture their personalities. I work with both Jewish and interfaith couples and I'm sensitive to the issues of
bringing two families together with different traditions and customs. With the
help of Skype and FaceTime, I am able to meet and counsel couples long
distance until they arrive in Cleveland for their wedding as well as destination
wedding ceremonies out of state. My sense of humor and lighthearted style
has made for some really incredible moments that bring laughter to the
heart and even a tear to the eye. When not under the Chuppah, I can be
found leading services for Shabbat, holidays, and special programs
for children up through seniors. I also officiate at funerals, unveilings,
as well as tutoring, and teaching hands on – interactive Jewish education
in families' homes.