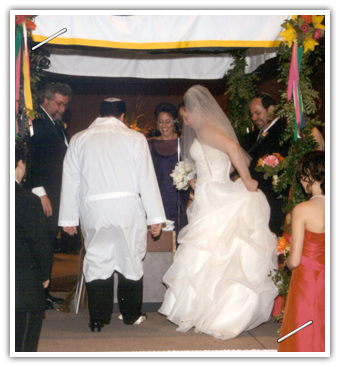 Weddings are such a special time for couples and their families. Filled with excitement, anticipation and a bit of anxiety, this special day is one that will be remembered by all for many years to come. Whether simple or lavish, small or large, the main ingredient for a successful wedding is listening to the couple and incorporating their visions into the ceremony template.
The Jewish wedding ceremony is not lengthy and incorporates a few necessary steps. As in many faiths, the Jewish ceremony contains prayers and blessings set aside only for the new couple. Blessings for sanctification of this day through the ceremonial drinking of the wine, known as Kiddush, is one such prayer.
Dear Laurel,
We wanted to thank you for doing such a beautiful job at our ceremony. We got numerous compliments on how lovely it was. You definitely helped to make it something we will never forget.
Ashley and Ted Riolomore rave reviews
I am also honored to officiate at same sex, interfaith or secular weddings, where it is always my goal to create a ceremony that is respectful,
inclusive, warm and welcoming; one that unites
and celebrates two people in love and creates
a unique and special moment.
All prayers and blessings, read or sung in Hebrew, are translated in
English and explained. Many parts of the ceremony such as
chuppah, kiddush, ketubah and breaking of the glass are all
explained briefly as the ceremony is conducted.
I promise to make your wedding a day of celebration and holiness
combined with a sprinkle of lightheartedness that couples will remember
and cherish for all their years ahead.