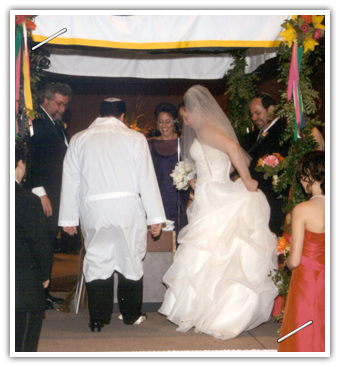 Weddings are such a special time for brides, grooms and their families. Filled with excitement, anticipation and even some anxiety, this special day is one that will be remembered by all for many years to come. Whether simple or lavish, small or large, the main ingredient for a successful wedding is listening to the bride and groom and incorporating their vision into the wedding template.
The Jewish wedding ceremony is not lengthy and incorporates a few necessary steps. As in many faiths, the Jewish ceremony contains prayers and blessings set aside only for the new couple. Blessings for sanctification of this day through the ceremonial drinking of the wine, known as Kiddush, is one such prayer.
Dear Laurel,
We wanted to thank you for doing such a beautiful job at our ceremony. We got numerous compliments on how lovely it was. You definitely helped to make it something we will never forget.
Ashley and Ted Riolomore rave reviews
Over the years I have been afforded the opportunity to officiate interfaith weddings as well. It is always my goal to create a ceremony that is respectful of both religions and based on the moral values and similarities that unite
human beings in love and companionship. All prayers and
blessings whether read or sung in Hebrew are fully translated
and explained as part of the ceremony. The parts of the
wedding service such as chuppah, wedding canopy,
Kiddush, ketubah and breaking of the glass are all
explained briefly for the wedding party and guests as the ceremony is conducted.
Most importantly, my wedding ceremonies are filled with joy and happiness.
This is a day of celebration as well as holiness and combining them with
a sprinkle of lightheartedness create the perfect lasting memory
for the bride and groom on their most important day.