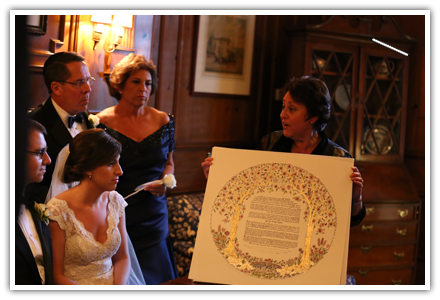 A ketubah (Hebrew: כְּתוּבָּה ; "written thing"; pl. ketubot) is a special type of Jewish prenuptial agreement. It is considered an integral part of a traditional Jewish marriage, and outlines the rights and responsibilities of the groom, in relation to the bride.
It is an ancient tradition, and still a valid and binding agreement, that most couples include in their wedding. The ketubah, signed immediately prior to the ceremony itself, historically placed a monetary value for the bride, which, in the event of the dissolution of the marriage, she would receive financial compensation often in the form of livestock, gold or silver. It served as a deterrent for grooms and husbands to walk away from the marriage. Today, as a beautiful piece of art, it contains ancient or modern text in Aramaic, Hebrew and/or English that speaks of love, happiness and commitment to lifelong partnership.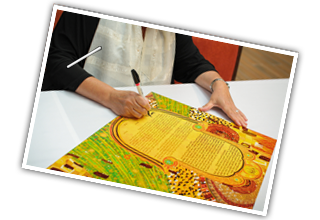 A ketubah can be found at a local Judaic store but are most often purchased online where the artist and company fill in all the names and details and a proof is sent first to the couple. You can google "ketubah" and many reputable sites will pop up where you can view the art and text choices before making a final selection.
Dear Cantor Barr,
Thank you so much for co-officiating our wedding. The ceremony was just beautiful and we could not have been happier with how everything turned out. It was a pleasure working with you and we're so glad you were able to preside over our special day.
Daniel and Grace Plattmore rave reviews